COMMUNICATION HAS NEVER LOOKED THIS SMART
With NEC's UNIVERGE Desktop phones, you can connect to a world of opportunities. With an illuminated display, touch wheel and slideshows of your choice, NEC desk phones add an element of style to your business communications. With a wide range of customizable features, these telephones are flexible, easy to use, and provide you with investment protection.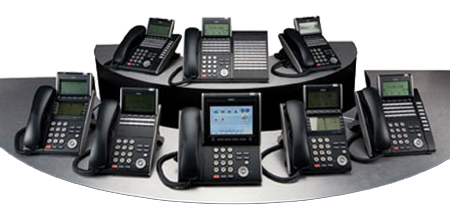 CUSTOMIZABLE TELEPHONES TO MATCH GROWING BUSINESS NEEDS
As your business expands, so do your communication needs. With NEC telephones, you can increase feature functionality through applications support and personalization of the phone. You can choose from our wide assortment the phone that best fits the individual's role. Whether they need just a basic single line phone or one with a 60-line console attached, NEC offers phones to fit everyone's needs.
CHOICE OF IP, DIGITAL DESKTOP PHONES, CORDLESS OR SOFT PHONE
Whether your business communications are pure IP or any combination of IP and digital, NEC provides a full line of phones that can accommodate your needs. The user interface and the terminal functionality remain the same, so a mix of models can be used  without extra training.